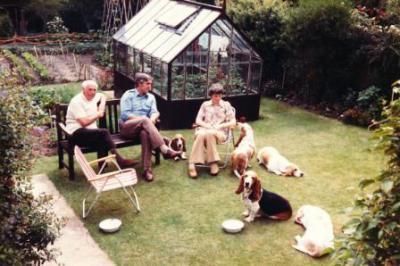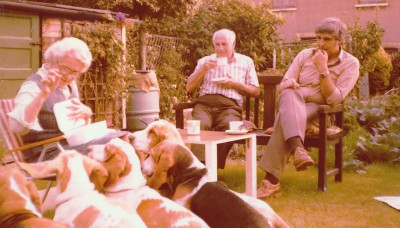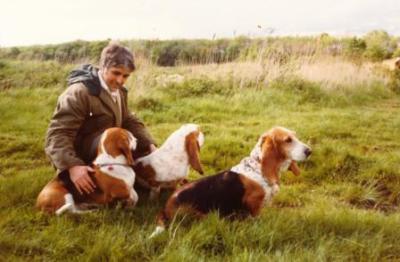 Bernie and Linda with her father and the Basset family, Southend, June 1980
Bernie watches while Linda's mother has the Bassets' full attention, September 1980
Bernie enjoying time with his Bassets, 1981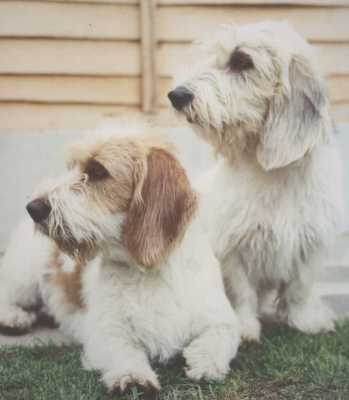 Early in the 1980s, on an annual visit to Crufts, Bernie and Linda saw some happy looking rough-coated little hounds. Linda fell for them and soon convinced Bernie that one day this would be the breed for Monkhams - Petit Basset Griffon Vendéen.
By 1983, having lost some of our old Bassets, there was room for the long-awaited "rough-coats" - Jomil Sirène of Monkhams (Jomil Mistral ex Jomil Gitane) and Wakelyns Willow of Monkhams (Gourou of Wakelyns ex Ch Twinrivers Duchesse of Wakelyns).

Both did well at shows and were great fun. However we were constantly being asked "What is it mixed with?" or "What is it?" (even by a judge!) much to Bernie's annoyance.
Jomil Sirène of Monkhams and
Wakelyns Willow of Monkhams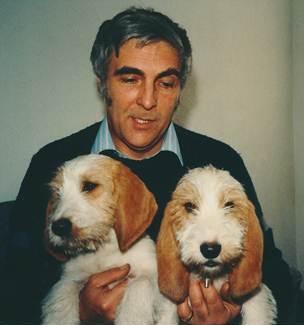 In 1984 our first litter from Jomil Sirène of Monkhams (Aster) was sired by Jomil Larbi of Varon. This produced our Monkhams Hollyberry and Valerie Link's first PBGV Hannah who, after going to America with Valerie, became a Canadian Champion.  She was also the first PBGV in the States to gain a Tracking Degree.
Shortly after, Willow was the first bitch in the UK to be mated to the newly imported Dk/Lux Ch Salto de Crislaure of Morebess. From this litter Douanier Dillen remained at Monkhams and was shown successfully for a while before going to Sussex and Django was one of the early imports into America, going to Bets Young in California.  He too was shown for a while but, with an element of Grand features behind him, embarrassingly he soon grew too big!
 
Bernie with Hannah and Hollyberry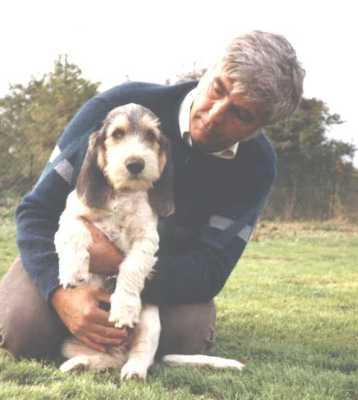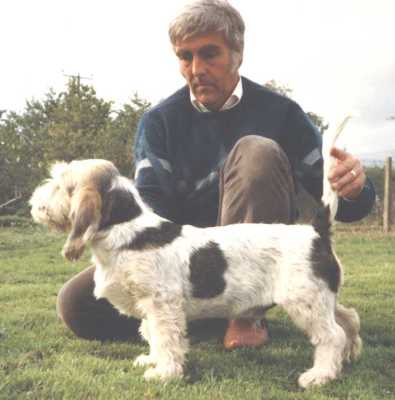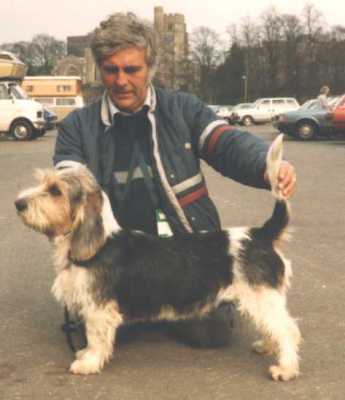 Bernie with Monkhams Douanier Dillen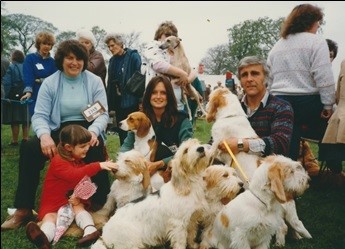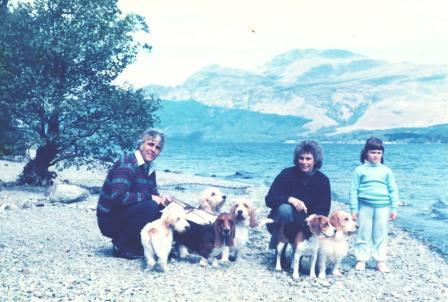 We travelled many miles promoting the breed and enjoying showing our PBGVs regularly - but we also made sure there was time for relaxation as well.
 
Scottish Kennel Club 1985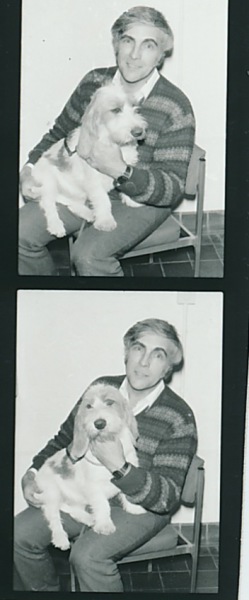 Bernie died in August 1986. It was a difficult time and, of necessity, exhibiting was limited. But, with Jenna brought up amongst dogs, it wasn't long before she was showing an interest in handling them herself.
Bernie, Linda and Jenna at Loch Lomond after Scottish Kennel Club Championship Show 1985.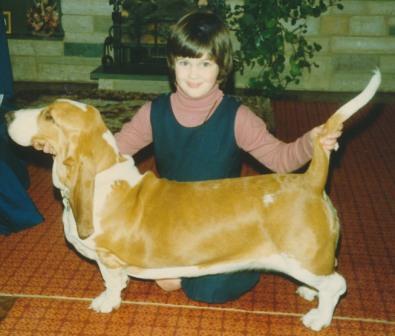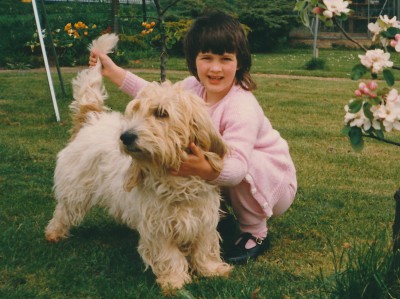 Jenna with Fredwell Fern of Monkhams, 
November 1986
Jenna with Wakelyns Willow of Monkhams, May 1987
A year later, Aster won the Bitch CC and Best of Breed at Richmond Championship Show.  Monkhams was back in business!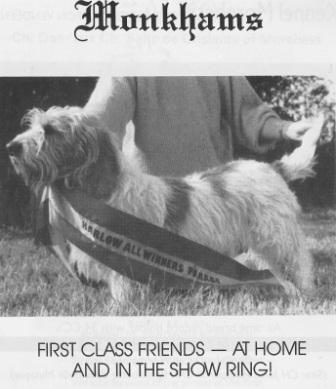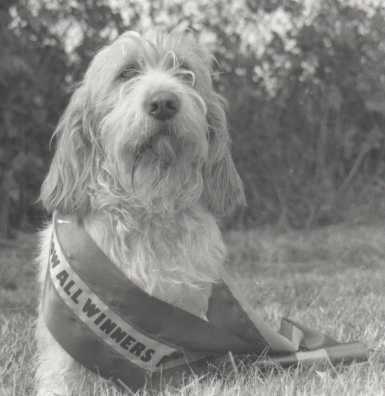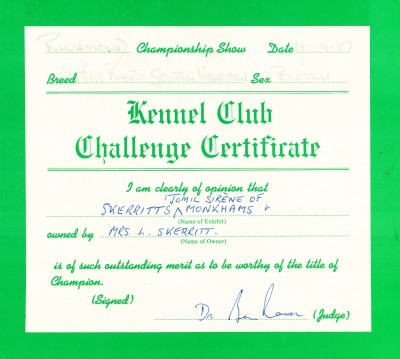 Jomil Sirène of Monkhams (Aster)
In 1989 Linda and Jenna moved to Buckinghamshire when Linda transferred with her work to Heathrow Airport.  There they were finally able to resume showing and  breeding.  2006 saw Jenna moving back to Essex with Linda following her in spring 2015 to continue a closer enthusiasm for and love of the breed.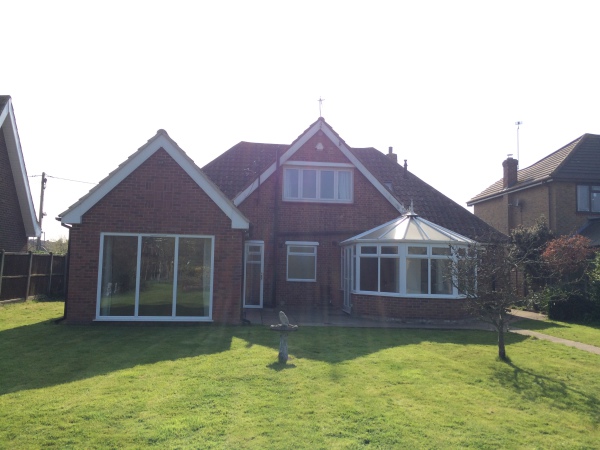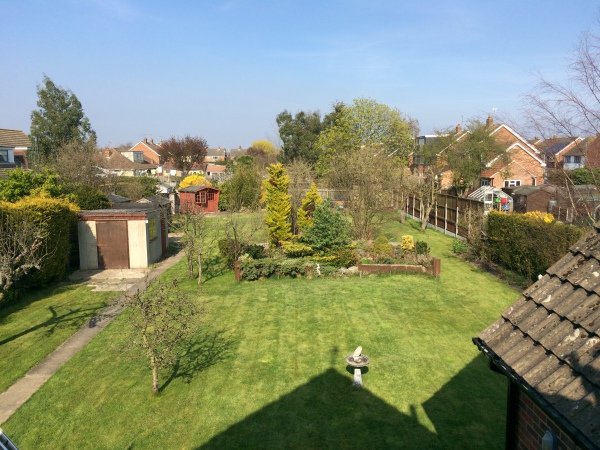 YOU CAN CONTACT US ON +44 (0)1375 673922 OR MONKHAMS@AOL.COM